Your Urban Adventure
Assemble your team of friends, family, colleagues, a date...
Once your tale starts you'll unravel cryptic clues to unlock the hidden path to a location within walking distance.
Search for sights on and off the beaten track, discover the hidden gems. Earn yourself a halfway break in a fantastic local pub or cafe
"Just like an outdoor escape room, but better, with pub stops!"
"A lot of fun - we've done a lot of these and this was up here as one of the best"
"Fabulous way to explore and discover our city. Would absolutely recommend this!"
"Absolutely brilliant fun and so informative away from the crowds."
How It Works
Each cryptic clue is a series of directions, followed by a question to be answered.
On your route you'll see sights that are mentioned within the clue so you'll know you're on the right path!
The last step of the clue will require you to search for an answer at the end of the directions.
Pick Your Trail
Choose your city and find the perfect trail for you
Securely Pay
Use Apple Pay, Google Pay, Paypal or Bank Card
Let's Go!
Enter your team details and off you go!
What You Say
The great things our great customers say about us.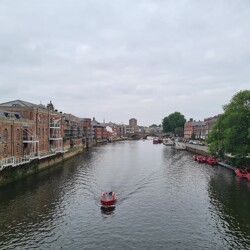 Mind Manglers
A good activity to do in York that gets you walking around around town and thinking, as well as stopping in a couple of cool old pubs. Would definitely recommend if you're in York for a few days!
Team JW
What a great way to spend the day!! The rain was intense which was unfortunate but we continued anyway. It was fun and added a new dimension to the city.
Dream team
First half was very enjoyable but then we got stuck and the kids lost interest. Answer was impossible to find. In the whole enjoyable and a lovely idea.
The Coven
Had a great time as always on this trail, so good to see areas you might not usually come across and see new aspects of our home town :)
BYAH 'N' DOX
Had a brilliant day, even though we got slightly lost (entirely our own fault for being terrible detectives). Saw loads of new parts of York. Can't wait to do it again in a new place as a tourist.
KL
We have never been to York before so thought something like this would be great to sight see - and it was amazing!! We are now looking at what other ones we can do as we had such a good time!
Skipsey
What a great day me and my wife had in York on 7th October 2020. The whole setup was easy to do and instructions east to follow. The clues were not too easy but also not too difficult. They led you on a well thought out route around the city and w...
The Flumps
The trail was great fun with clues that were challenging but not too tricky to solve. It was nice to see York from different viewpoints and allowed us time to explore different things along the way whilst still completing the trail. The story that...
Agatha Raisin Sums It Up
Very well organised and good fun mystery tour . We saw parts of York we didn't know existed and loved the clues to solve. I can thoroughly recommend. My daughter (aged 12) was absolutely hooked! Go and enjoy yourself!!
EC
Had such good fun doing this trail yesterday. Came across lots of shops and pubs tucked away from the mainstream. Never had any intention of being the quickest so it took us most of the day. In between the cocktails! Definitely recommend it!
The Charlesworths
A great day out for a late Mother's Day present, good fun and a good way to see the sights of York.
The G-Team
Really good. Great event
Helen & Tom
Super-fun, learned some cool new things about York that we wouldn't have found out otherwise. Thanks so much!
Leading beasts
One of the best ways to see parts of York's history you might not have seen otherwise. We had great fun and it's very rewarding to solve the clues. Some clues are a bit cryptic and some non-native speakers might struggle with the puns etcetera, bu...
Team Panda
We loved the trail! Colleagues from the US, Netherlands, Denmark and UK. As a person who has loved in York for 15yrars I saw things I've never seen before. It was fabulous. The technical hitches were sorted quickly and my other half and I plan to ...
Awesome Foursome
Brilliant family outing, the trail provide a great purpose to go exploring and for us all to work together with the clues. Bring on the next one.
Team Trailers
What a way to explore. We all had a fantasetic time; the route was brilliant and so were the pub stops on the way. Can't recommend enough.
Bit of a Shambles
We all really enjoyed the experience – some very clever clues leading to bit of York you might not normally visit. Our party ranged from 5 – 41 and everyone had a lot of fun. Though it is great for all ages, I'd like to do one without the kids so...
LL
Brilliant way to explore the city. Great clues & help via WhatsApp. Walking the walls was not possible due to the walls being closed because of ice, but we were still able to complete the hunt. Really fun day & we can't wait to do another one!
Bruce force and ignorance.
We really enjoyed it, a great way to explore parts of the city we don't normally visit and look at it in different ways. Some of the clues were challenging but we figured them out in the end. A good family day out.
The Wolds Warriors
Thoroughly enjoyed this trail. Made us look at things we would have otherwise passed by. Great clues. Good fun.
Les Saintes
We all had a fantastic and entertaining time following the cryptic clues around the City of York. Not only was it fun but it was also informative. It was good to do at a leisurely pace and to have breaks for refreshments too.
Die fanatischen Vier
It was a very nice scevenger hunt. Unfortunately the city walls were closed due to icy weather and therefore we couldn't find the hint there. An other place where we should find a hint was also under construction. Other than that it was really nic...
Joined up Whiting
Great activity us to do as a family. Interesting and well thought out route around the city and great to have a beer break at Pivni.
BD
Very good experience!!Taking you into areas of the city you would not normally visit and see. Great to experience these areas with the history of the tour. Though beware of predictive text when typing answers!!Bazz & Nic
Ali & Ben
Great way to explore the city of York. Plenty of areas to discover and little bits of history to learn. Awesome afternoon wandering and discovering. 5 stars!
Love Machines
Truly fantastic - Did this today with my husband and it was brilliant. Really felt as if we were in our own version of the Divinci Code or Challenge Aneka. Running around York solving clues sent to my phone. Saw some really unusual parts of the ci...
The snail and the whale
Clear and fun clues, easy to follow. Took us around all the cool areas of York and taught us about the history too. İt is our 3rd time doing a Secret City trail and we will continue to try the others too! Thanks!
The Greasy Chip Butties
Found lots of new things in my home city, having lived here for 20 yearsGot scuppered by one building that was covered in netting and scaffolding
20YearsASlave
We are four, well-walked, people who have had a brilliant time in York because of you and your team's service. We loved discovering the city for the first time through winding streets and alleyways
em
Amazing experience, perfect for a date defiantly something different that's worth trying. Will definitely be trying another one in a different city!
The dream team
Just completed the York trail - great fun walking round the city!! Really enjoyed it thanks.
Nikki and Adam
Was great fun and a good way to see the city
Hicky Crew
A great way to see York! We're local, but never properly spent a day looking round York and this was a fab way to do it. Would absolutely recommend and are looking forward to doing it elsewhere
Lola
Wow excellent day out! Took my time and enjoyed discovering loads of interesting stuff. Finished in a pub, perfect!
Team Lophence
Had a great time on the Quirks and Snickets tour of York. Fabulous way to explore and discover our city. Would absolutely recommend this!
Jamar
Really enjoyed the York trail. Got to see lots of the City and even some parts that I hadn't even noticed before. Would highly recommend the trail if you want to explore. Looking forward to seeing this is more Cities in the future.
daveyt3
Had a fab time doing the Quirks and Snickets trail in York. Time for a pint. Great service from The Secret City. Took less time than expected thanks to a bit of local knowledge. Thoroughly recommended to locals and visitors alike.
Our Guarantee
Simply; If you don't have a great time on our trail, let us know why and we'll give you your money back in full.
Team Ideas
Friends
"Really enjoyable. Nice way to walk around York and see things we otherwise might have missed. The text message system for clues worked really well too"
Family
"My family and I loved this trail! The set up is really cool and the roads it took us on were new to me as a resident here...Overall it was a really great time! Thank you very much!"
Tourist
"Really fun! It's a great way to see London with different eyes. Cheers to alternative tourism! Can't wait for new trails in the city!"
Hen / Stag Do
"The perfect activity for the perfect day. A nice way to organise the day, great to have pub stops on the route too! :)"
Office Team Building
"We used the secret city tour as a team bonding exercise. It was a great way to get to know people you don't work with directly. We all met in the pub at the end of the tour for a well deserved pint! - would definitely recommend for an away day!"
Birthday
"I was bought a voucher by a friend and didn't really know what to expect. We had a brilliant time working our way through the clues in York. Think I'll buying them a voucher for their birthday too!"
Christmas Event
"A great way to get the team out of the office, our comeptitiveness came out as our teams raced around solving the clues. Fantastic idea to have pub stops to meet up with each other and have a drink."
Date
"Amazing experience, perfect for a date definitley something different that's worth trying. Will be trying another one in a different city!"