Your Urban Adventure
Assemble your team of friends, family, colleagues, a date...
Once your tale starts you'll unravel cryptic clues to unlock the hidden path to a location within walking distance.
Search for sights on and off the beaten track, discover the hidden gems. Earn yourself a halfway break in a fantastic local pub or cafe
"Just like an outdoor escape room, but better, with pub stops!"
"A lot of fun - we've done a lot of these and this was up here as one of the best"
"Fabulous way to explore and discover our city. Would absolutely recommend this!"
"Absolutely brilliant fun and so informative away from the crowds."
How It Works
Each cryptic clue is a series of directions, followed by a question to be answered.
On your route you'll see sights that are mentioned within the clue so you'll know you're on the right path!
The last step of the clue will require you to search for an answer at the end of the directions.
Pick Your Trail
Choose your city and find the perfect trail for you
Securely Pay
Use Apple Pay, Google Pay, Paypal or Bank Card
Let's Go!
Enter your team details and off you go!
What You Say
The great things our great customers say about us.
Very interesting & despite being born & bred in Mcr learnt lots. Definitely recommend.
Wedding Anniversary Walking
We loved this experience, which helped us find new routes through the city we know and love. Absolutely loved the concept.. the clues and route info was provided at just the right level. Would love another option.. Northern quarter based? 😎
Great way to spend the day and see the sites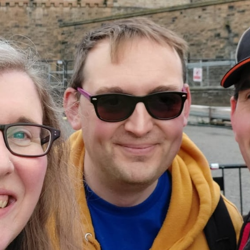 We loved the trail, what a great way to spend a sunny afternoon. Really great story and fun clues. We will definitely check out the other trails when we visit other cities. Thank you for the entertaining day!
Our Guarantee
Simply; If you don't have a great time on our trail, let us know why and we'll give you your money back in full.
Team Ideas
Friends
"Really enjoyable. Nice way to walk around York and see things we otherwise might have missed. The text message system for clues worked really well too"
Family
"My family and I loved this trail! The set up is really cool and the roads it took us on were new to me as a resident here...Overall it was a really great time! Thank you very much!"
Tourist
"Really fun! It's a great way to see London with different eyes. Cheers to alternative tourism! Can't wait for new trails in the city!"
Hen / Stag Do
"The perfect activity for the perfect day. A nice way to organise the day, great to have pub stops on the route too! :)"
Office Team Building
"We used the secret city tour as a team bonding exercise. It was a great way to get to know people you don't work with directly. We all met in the pub at the end of the tour for a well deserved pint! - would definitely recommend for an away day!"
Birthday
"I was bought a voucher by a friend and didn't really know what to expect. We had a brilliant time working our way through the clues in York. Think I'll buying them a voucher for their birthday too!"
Christmas Event
"A great way to get the team out of the office, our comeptitiveness came out as our teams raced around solving the clues. Fantastic idea to have pub stops to meet up with each other and have a drink."
Date
"Amazing experience, perfect for a date definitley something different that's worth trying. Will be trying another one in a different city!"