What You Say
The great things our great customers say about us.
We came to York for a few days for my birthday and got recommended to do one of these. I liked the fact it's independent, we got to see sights of York that we wouldn't of seen otherwise and stopped off at lovely pubs & small cafe's along the way. ...
So much fun! Really took us around the city to places we'd never think of going!! Took us a good 2 hours !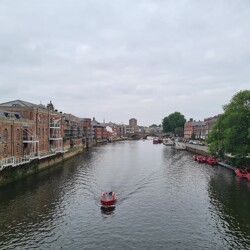 A good activity to do in York that gets you walking around around town and thinking, as well as stopping in a couple of cool old pubs. Would definitely recommend if you're in York for a few days!
What a great way to spend the day!! The rain was intense which was unfortunate but we continued anyway. It was fun and added a new dimension to the city.
First half was very enjoyable but then we got stuck and the kids lost interest. Answer was impossible to find. In the whole enjoyable and a lovely idea.
Had a great time as always on this trail, so good to see areas you might not usually come across and see new aspects of our home town :)
Had a brilliant day, even though we got slightly lost (entirely our own fault for being terrible detectives). Saw loads of new parts of York. Can't wait to do it again in a new place as a tourist.
We have never been to York before so thought something like this would be great to sight see - and it was amazing!! We are now looking at what other ones we can do as we had such a good time!
What a great day me and my wife had in York on 7th October 2020. The whole setup was easy to do and instructions east to follow. The clues were not too easy but also not too difficult. They led you on a well thought out route around the city and w...
The trail was great fun with clues that were challenging but not too tricky to solve. It was nice to see York from different viewpoints and allowed us time to explore different things along the way whilst still completing the trail. The story that...
Very well organised and good fun mystery tour . We saw parts of York we didn't know existed and loved the clues to solve. I can thoroughly recommend. My daughter (aged 12) was absolutely hooked! Go and enjoy yourself!!
Had such good fun doing this trail yesterday. Came across lots of shops and pubs tucked away from the mainstream. Never had any intention of being the quickest so it took us most of the day. In between the cocktails! Definitely recommend it!
A great day out for a late Mother's Day present, good fun and a good way to see the sights of York.
Super-fun, learned some cool new things about York that we wouldn't have found out otherwise. Thanks so much!