A trail through the Square Mile, the original settlement of London formed by the Romans. Gather your team and get exploring; start near St Paul's Cathedral and work your way East.

Discover a Roman Amphitheater before reaching halfway where you can soak in the atmosphere of a cosy Inn built from...spoilers! Warm up and get refreshed before you head back out to conquer your quest.

Scurry onwards through a Victorian market before descending into magical ruins. Complete the trail to uncover another top notch pub where you can kick back and relax.

There are two optional pub breaks on this trail; the first is half way around and the second is at the end. Pubs may be closed on Sunday - get in touch and we'll check ahead for you!

Sunday 3rd October - London Marathon - This may impact the last couple of clues on the route, please get in touch for more information.
Start Times:
Start between 8am to 3.45pm each day
This trail has some gated areas that may be closed if you start outside of these hours.
Select A Date
Secure your date now, be quick dates sell out fast.
Fully Booked
Almost Sold Out
Your Chosen Date:
Flexible Booking - You can change the date or get a full refund at any time for any reason.
Book Now
Communication Methods
Uses text messages charged at your standard rate (free on some contracts).
Recommended. Add up to 5 phones per team, everyone can receive clues and answer too. Requires a data allowance on your phone plan.
Recommended. Add up to 5 phones per team, everyone can receive clues and answer too. Requires a data allowance on your phone plan.
What You Say
The great things our great customers say about us.
Really fun and interesting few hours on the City Treasure Hunt, will definitely do the West End hunt soon.
What a fun way to spend time with your friends or family! Saw loads of things in the City of London that we've always missed or never knew about. Lots of little passageways, tons of history and lovely little gardens and ruins to discover! Would ab...
A fabulous way to see the sites of London. Clues were pitched perfectly, enough challenge but not impossible!A great day out!
Really fun and interesting adventure, we saw parts of London we'd never have seen without this trail. The vast majority of the riddles were fun and largely easy to follow, with only a couple being a little too vague to work out without hints. Over...
It was great to discover some parts of the City I hadn't seen before. Went as a family with 2 teens and a dog! Some really lovely little gardens hidden away. Clues weren't too hard.. Only 2 that confused us. Great afternoon. Exhausted by all the w...
Great experience, nice sightseeing and challenging puzzles.
We loved this treasure hunt. Not too difficult yet challenging enough for 2 adults and teens. We saw places in London that we never knew existed. It was great despite the rain. Quite a lot of walking though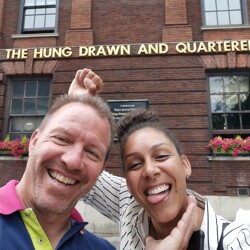 What a great day out! Good to get the brain engaged and see some things that you normally wouldn't when in london. Love the addition of the pub stops along the way (that first one was needed) My partner and I thoroughly enjoyed it. Needed a bit o...
Really enjoyed the walk. Saw places I've never seen before even though I have walked around London many times.
Great fun. We did this with a 17 and 18 year old and kept their attention all day! Clues were just the right level to test us but not too hard that we had to give up. Learnt some interesting stuff and discovered some unknown gems.Would definitely ...
We had such a great time, saw so many hidden areas, we were delighted that some of the clues were really difficult and some were more straightforward, giving a great sense of pace to our day, and I reckon if you went as a family it would be great ...
great fun and very informative. I was born in London but never knew some of these little secrets.
I got to find out places I've never known for the time living in London for 4years. Amazing!!
It was a real fun! Great experience to look around the secret part of the London. Was a little bit challenging but totally worth give it a shot!
Covid friendly, a great way to meet up, see some hidden parts of the city and exercise some brain cells as well as our legs!Enjoyed the outdoor 'church' building and the memorial honoring self sacrifice.