You're on the trail of a murder, it's 1491 and rumours are circling. Gather your team and get investigating; starting near Clifford's Tower you'll explore York looking for clues that'll lead you to the suspects.

Discover the York walls and scuttle down hidden streets. Unlock tucked away taverns to warm up and get refreshed before you head back out to conquer your quest.

Complete the trail to learn the motive of this menacing murder and bring the criminals to justice. Based on the tale of a true murder mystery.



There are two optional pub breaks on this trail; the first is 1/3rd around and the second is 2/3rds around.
Start Times: Start between 8am to 3.00pm each day
Select A Date
Secure your date now, be quick dates sell out fast.
Fully Booked
Almost Sold Out
Your Chosen Date:
Flexible Booking - You can change the date or get a full refund at any time for any reason.
Book Now
Communication Methods
Uses text messages charged at your standard rate (free on some contracts).
Recommended. Add up to 5 phones per team, everyone can receive clues and answer too. Requires a data allowance on your phone plan.
Recommended. Add up to 5 phones per team, everyone can receive clues and answer too. Requires a data allowance on your phone plan.
What You Say
The great things our great customers say about us.
Absolutely brilliant. We actually got to explore York (even places we'd never visited before) with our two 'don't like to walk' tweens who were completely engrossed the whole way through! Got completely confused on occasions but that just added to...
Great fun, good story and clues. Saw lots of york I'd not seen before. Good being able to share link with others to follow the clues. Just wish I'd known the pub stops so I could have booked a table in advance as all were fullFantastic customer se...
How different! We've thoroughly enjoyed doing the fatal fued in York.Extremely cleaver the way its been planned. You see parts of the city you would normally walk past unnoticed.We really recommend doing the secret city. It's really fun, and a goo...
We came to York for a few days for my birthday and got recommended to do one of these. I liked the fact it's independent, we got to see sights of York that we wouldn't of seen otherwise and stopped off at lovely pubs & small cafe's along the way. ...
So much fun! Really took us around the city to places we'd never think of going!! Took us a good 2 hours !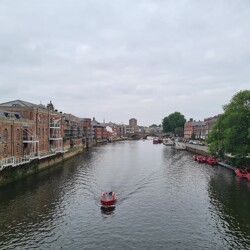 A good activity to do in York that gets you walking around around town and thinking, as well as stopping in a couple of cool old pubs. Would definitely recommend if you're in York for a few days!
What a great way to spend the day!! The rain was intense which was unfortunate but we continued anyway. It was fun and added a new dimension to the city.
First half was very enjoyable but then we got stuck and the kids lost interest. Answer was impossible to find. In the whole enjoyable and a lovely idea.
Had a great time as always on this trail, so good to see areas you might not usually come across and see new aspects of our home town :)
Had a brilliant day, even though we got slightly lost (entirely our own fault for being terrible detectives). Saw loads of new parts of York. Can't wait to do it again in a new place as a tourist.
We have never been to York before so thought something like this would be great to sight see - and it was amazing!! We are now looking at what other ones we can do as we had such a good time!
What a great day me and my wife had in York on 7th October 2020. The whole setup was easy to do and instructions east to follow. The clues were not too easy but also not too difficult. They led you on a well thought out route around the city and w...
The trail was great fun with clues that were challenging but not too tricky to solve. It was nice to see York from different viewpoints and allowed us time to explore different things along the way whilst still completing the trail. The story that...
Very well organised and good fun mystery tour . We saw parts of York we didn't know existed and loved the clues to solve. I can thoroughly recommend. My daughter (aged 12) was absolutely hooked! Go and enjoy yourself!!
Had such good fun doing this trail yesterday. Came across lots of shops and pubs tucked away from the mainstream. Never had any intention of being the quickest so it took us most of the day. In between the cocktails! Definitely recommend it!