Your Urban Adventure
Assemble your team of friends, family, colleagues, a date...
Once your tale starts you'll unravel cryptic clues to unlock the hidden path to a location within walking distance.
Search for sights on and off the beaten track, discover the hidden gems. Earn yourself a halfway break in a fantastic local pub or cafe
"Just like an outdoor escape room, but better, with pub stops!"
"A lot of fun - we've done a lot of these and this was up here as one of the best"
"Fabulous way to explore and discover our city. Would absolutely recommend this!"
"Absolutely brilliant fun and so informative away from the crowds."
How It Works
Each cryptic clue is a series of directions, followed by a question to be answered.
On your route you'll see sights that are mentioned within the clue so you'll know you're on the right path!
The last step of the clue will require you to search for an answer at the end of the directions.
Pick Your Trail
Choose your city and find the perfect trail for you
Securely Pay
Use Apple Pay, Google Pay, Paypal or Bank Card
Let's Go!
Enter your team details and off you go!
What You Say
The great things our great customers say about us.
Yo ho ho and a bottle of Ram
Great trail, genuinely quite hard, much easier after the first pint break!
Team CC
Really fun and interesting adventure, we saw parts of London we'd never have seen without this trail. The vast majority of the riddles were fun and largely easy to follow, with only a couple being a little too vague to work out without hints. Over...
Les gros partent à l'aventure...
Amazing game! It was so fun and interesting to see these places from a different angle. We were a team of 5 split into 2 groups (to add a bit of challenge) and each team received the clues, which made it easier to compete against each other. We wi...
Questionable People Solutions
Exciting adventure, difficult and creative, mind blowing cues, fun attractions.
Sleuthing Sloths
We really enjoyed the experience. A wonderful way to discover hidden parts of London.
Team AO
It was great fun! I think the experience could benefit from the first question being an example. Once you know what's happening, you are on a roll. Looking forward to another one.
MHT
Really enjoyed completing this hunt with my son and girlfriend. They live in London but hadn't noticed lots of the things we saw. Clues were tricky but not too difficult which made it fun. We stopped and had lunch in the lovely tavern mid trail w...
Cooper Clan
It was great to discover some parts of the City I hadn't seen before. Went as a family with 2 teens and a dog! Some really lovely little gardens hidden away. Clues weren't too hard.. Only 2 that confused us. Great afternoon. Exhausted by all the w...
X-TEAM
Great experience, nice sightseeing and challenging puzzles.
Team PT
We loved this treasure hunt. Not too difficult yet challenging enough for 2 adults and teens. We saw places in London that we never knew existed. It was great despite the rain. Quite a lot of walking though
Amisha
Best day out in London with my children. I did this with my 3 teenage daughters and they can't wait to try another one!
Who's idea was this?
Great fun, a good level or challenge and achieve ability. Loved it! Thank you.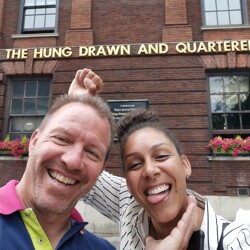 Kipping28
What a great day out! Good to get the brain engaged and see some things that you normally wouldn't when in london. Love the addition of the pub stops along the way (that first one was needed) My partner and I thoroughly enjoyed it. Needed a bit o...
Team JS
Really enjoyed the walk. Saw places I've never seen before even though I have walked around London many times.
Psychobabble
We leisurely did the Secret City trail and it was so much fun. The clues were not too hard to become frustrating and not too easy that we didn't have to think about it. Sometime the punctuation in the text caused confusion for directions we shou...
Lane Team
Great fun for the whole family. You can make it as competitive as you'd like, or just stroll from point to point enjoying unique parts of London along the way.
Ollie&George
Great way to explore the city. I have lived and worked in London for 30+ years and pride myself on knowing the hidden side, but this took me to many a place I have never been. Pitched just right; challenging yet achievable especially after a few r...
Dirty Gertie, number 30
Really enjoyed this trail! Has really changed my view of how beautiful London is - and so many interesting facts
B-Team
The only thing that messed up was the St Michael angel. We loved it otherwise!
Team JML
Great fun. We did this with a 17 and 18 year old and kept their attention all day! Clues were just the right level to test us but not too hard that we had to give up. Learnt some interesting stuff and discovered some unknown gems.Would definitely ...
Team TR
Loved it. London can be so overwhelming and this experience gave me to opportunity to really look around and see some of the amazing 'treasures' that go unnoticed in this incredible city.
Bushbeck babes
Great clues, just hard enough! Saw things I'd never noticed before, despite knowing the area really well. And just the right length. Excellent!
The Well Wyn-ers
We had such a great time, saw so many hidden areas, we were delighted that some of the clues were really difficult and some were more straightforward, giving a great sense of pace to our day, and I reckon if you went as a family it would be great ...
Swamp people
Really good fun, the clues had some challenge to them but were fair. Would recommend to a friend
Tom
So cool and an interesting fun time. Learn things u have never noticed before about London...and areas u have never been to.
ker
great fun and very informative. I was born in London but never knew some of these little secrets.
Lads on Toure
Was great fun and a quality way to spend an afternoon! Super idea and a fab way to see the city of London!
Hannah's A-Team
Great fun!
Yang gangs
I got to find out places I've never known for the time living in London for 4years. Amazing!!
Yang gangs
It was a real fun! Great experience to look around the secret part of the London. Was a little bit challenging but totally worth give it a shot!
Team AB
This was way more fun than I expected. So much fun following the clues.
Mama a Cezi G
A clever little trail, we found harder than the one in the city. A good way to spend some outdoor time in central London and to see and find some interesting facts.
Sazzamanda
Covid friendly, a great way to meet up, see some hidden parts of the city and exercise some brain cells as well as our legs!Enjoyed the outdoor 'church' building and the memorial honoring self sacrifice.
Baby Pickle
Enjoyed exploring hidden areas of The City
CO
I bought this for my friends 30th birthday as a surprise! It was a unique and interesting activity to do in London and didn't disappoint. It made you pay attention to finer details you wouldn't have been aware of! Perfect activity to whilst the Lo...
Claz and Boughts
We had such a great time and spotted loads of new landmarks in a place we thought we knew so well!
Hello Kittens
A really good day out, so well organised and got to see some hidden gems of London and travelled quite far . Perfect thing to do outside with friends in the current tier 2 situation. All pubs has outside seating. Brindisa tapa soho at the end poin...
KALA
We had a fantastic day discovering new parts of London with the family. Loved walking through the small parks. The clues were good with a couple that we found trickier. All is very well thought out and executed. We will definitely revisit some of ...
Where's Gorgel?
Really fun and great clues! Thoroughly recommend!
Beth&James
It was really good! Well organised clues and great locations to walk through. We took a few wrong turns but the clues made it easy to recognise our mistakes. We are planning another one soon and would definitely recommend! Please create tours in O...
Jackets
The walk was fantastic and we ended up stopping many times along the route to take pictures of buildings or statues that caught our eyes. It was a great way to explore London.
Sham
What a great day- so much fun and a fantastic way to see parts of London that you have never noticed before . I have been to London all my life regularly and have never seen the golden graces !Thank you
Let the hunt be-GIN
Really fun way to explore London, coming across lots of hidden gems we didn't knelt existed!
Cat Planet
Great fun following the London trail with some clues that were easy and others more difficult! Cant wait to do the next one
BR
Great trail! Makes you more aware of your surroundings and get to know London better. Makes you look up and see things you wouldn't usually see! Challenging without being impossible. Didn't know about the police lookout post in Trafalgar Square - ...
The Snausages
Absolutely brilliant! Takes you to places you'd never think of going, or even know are there. Gave us a totally new perspective on London - by the end we wanted to do it all again. Can't wait to do another!
Team-ballo
We enjoyed the game. We were just a bit annoyed by the 90 minutes penalty as there was probably a communication issue. Anyway, the whole experience was really nice!
Hanley Hunters
We enjoyed visiting some lovely places we had never come across before. It kept the kids engaged whilst getting a good walk.
The Fab 4
We had a brilliant day! The clues were just right, tricky enough to challenge but not so difficult we couldn't follow.Absolutely brilliant, would definitely recommend!!!!We saw parts of London we would never have known existed.
Guinteas
Great fun and some fiendish clues once or twice to keep us on our toes!
Taylor's in London
Absolutely loved it! Did it as a family (2 adults +8yo+14yo), didn't use any hints but learned that wrong answers add 10min on to your time (so be aware ⏱).everyone felt involved! Break in between was a very good idea!Excellent way to learn new t...
DK
A great experience. A great way to see little bits of the city you don't always see as more of a "local" some of the clues were a little tough, and when you start it's a little difficult to know what to expect.One recommendation--always look up!W...
Stave
Loved it! Well thought out clues which took us all over the area we work in every day, but have never properly explored. Can't wait to try another one!
The Shampoo Jack Gang
What a brilliant way to see London. We found parks, statues, plaques and ruins we never would have seen otherwise. All of us from age 8 to over 50 loved it!
Day Off Work
Brilliant trail. Visited areas we would never have gone. The Roman amphitheatre was a highlight, along with the pubs 😀🎉
MW2
Was apprehensive, but thoroughly impressed. Really really well made, and we had a cracking day. We had two teams of 6 people racing to the end, and we had such a laugh. Highly recommended, and very well priced. Definitely would do another one of t...
Team JDG
Really fun way to spend an afternoon. Thought I knew this part of London well, but I was wrong! The included stops were a great idea too and much appreciated.
RS
Really enjoyed the Secret City mystery tour going to places I'd never been before and noticing things I've previously walked past! The clues were suitably difficult so you have to use your brain and think laterally! Fortunately it stayed dry as r...
Winston
Great way to see bits of London you don't usually look at - clues were well thought out and great fun was had by all - thank you
Oliver - Hames
We had a really good afternoon walking through London figuring out the clues.
Snail Trails
Great afternoon exploring sights in Central London I never knew existed, highly recommended!
Team Fishy&Froggie
A fantastic walk about some of the hidden sights of old London that we have unknowingly walked passed. Fun day out, would recommend.
The Three Fivers
An enjoyable trail. Got us to pay much closer attention to places we thought we knew really well. Look forward to following more trails!
Sweet Nuts and Sugar Tits
Absolutely loved every minute / challenge!
Homies
We did the City Trail. A fun day out. Glad we wore comfy shoes. Great way to see the city and find bits you never knew were there -like a Roman Amphitheatre! Nice to have a stop half way round. Easy enough clues to follow but needed to keep an eye...
NH2
We really enjoyed our tour experience. The clues provided sufficient guidance but also a challenge! We found & saw places that we've previously missed and will be going back. Great fun & insightful, many thanks, Nick
Paul's birthday
Great idea for a family day in London getting to see parts of the City that you might walk past on a daily basis but never actually take notice of .... we will be booking another tour soon!
The Duane Family
We had a great time but was a lot further than we thought! We would have liked the option of a longer break as we had some older people with us who needed a bigger break than 30 minutes.And also to end at a famous landmark rather than a busy road...
Wilksing in a Winter Wonderland
Great fun! Good level of difficulty
Team Bear
Absolutely lots of fun, we got explore sides of Londinium that we never even knew existed. It made us appreciate London's history even more!Definitely recommended. Wear comfortable walking shoes though!
Girls on Tour
Thoroughly enjoyable afternoon. Seen a few more parts of London not been to before. Suited a mixed group perfectly.
3 év Veled
It was a really fun tour with a lots of great sight included! We enjoyed it a lot!
Matilda madness
Great fun, off the beaten track and we saw some amazing sights!Shame it got dark so we couldn't see the clue in st dunstan sq!Great afternoon though......
HP
Thoroughly enjoyed our treasure hunt. We were taken to lots of little hidden treasures in London and discovered historical gems. We would definitely recommend
Les mizzogs
Really fun way to spend 3-4 hours and see parts of London you've not seen before. Entertaining clues, lots of fun.
The Betty blues
Brilliant! Taken us on a great tour of London and some lovely streets we've never seen before.
The Nifflers
We had a great time, look forward to the next adventure!
The Trillington Storytellers
Had a great time on the City of London walk. Visited a few places we didn't know existed and had a very nice lunch at one of the recommended pubs - so nice we took a bit too long and our time wasn't that good! Will definitely try another walk.
The Druids' Circle
We had a great time, seeing some interesting hidden gems and generally "observing" more than you normally do! Never knew there was a Roman Amphitheatre in London! And we had a bonus bit of fun: early 20th Century London buses on show! It was good...
Know Eye Deer
Really fun day out discovering hidden gems of the city of London. Great clues, lots of fun trying to figure them out. Finding out about the Roman walls in the middle of London was particularly interesting. 100% would recommend for anyone who wants...
We won it six times!
We loved seeing hidden london, the parks and buildings. Education for a cockney! Great day out.
Dora the Explorer
As a born and bred Londoner this was a great day out walking well trodden streets but seeing new things. The clues are never too far away and so chances of getting lost are minimized. Lots of places to eat and drink en route and a brilliant few ho...
JM
This was great fun for a sunny day out! Right mix of hard and difficult questions and a good walk too :)
Misty's magician
An amazing way to see the hidden treasures of London! Perfect activity to take your friends and family on when they're visiting. Love the cheeky pint options throughout the trail!
Treasure Hunt Trailblazers
A lot of fun - we've done a lot of these and this was up there as one of the best
Natedawgs
We made it! It was fun!
Virgin and the Whore
Would recommend for anyone who wants to see the famous London attractions, along with some amazing off the beat spots. A whole day out, loads of fun and challenging! We want to do another one!
Hold Faster
Absolutely brilliant fun and so informative away from the crowds.Seeing about 200 youths cycling by on a quietish road pulling wheelies was amazing.
The Europeans
Thank you so much it was great to be honest!
A-Team
We saw a lot of places we would have never found without the game and places we didn't know. Sometimes it was quite tricky but in a group it's a lot of fun! We will definitely do the other Game for London
Flamingo
An excellent way to explore hidden parts of London, discover new things and learn the history behind the prettiest areas of the city.
Yo
Really fun! It's a great way to see London with different eyes. Cheers to alternative tourism! Can't wait for new trails in the city!
Ben and Joel (not Tom)
Despite the weather we had a great time exploring some unseen areas of london, the pub stops helped to dry off!
Happy Birthday Liz
5* Absolutely Brilliant FUN. Support Staff A1!!! Excellent! Was a great way to learn & see...at your own pace....this great City of London.
Our Guarantee
Simply; If you don't have a great time on our trail, let us know why and we'll give you your money back in full.
Team Ideas
Friends
"Really enjoyable. Nice way to walk around York and see things we otherwise might have missed. The text message system for clues worked really well too"
Family
"My family and I loved this trail! The set up is really cool and the roads it took us on were new to me as a resident here...Overall it was a really great time! Thank you very much!"
Tourist
"Really fun! It's a great way to see London with different eyes. Cheers to alternative tourism! Can't wait for new trails in the city!"
Hen / Stag Do
"The perfect activity for the perfect day. A nice way to organise the day, great to have pub stops on the route too! :)"
Office Team Building
"We used the secret city tour as a team bonding exercise. It was a great way to get to know people you don't work with directly. We all met in the pub at the end of the tour for a well deserved pint! - would definitely recommend for an away day!"
Birthday
"I was bought a voucher by a friend and didn't really know what to expect. We had a brilliant time working our way through the clues in York. Think I'll buying them a voucher for their birthday too!"
Christmas Event
"A great way to get the team out of the office, our comeptitiveness came out as our teams raced around solving the clues. Fantastic idea to have pub stops to meet up with each other and have a drink."
Date
"Amazing experience, perfect for a date definitley something different that's worth trying. Will be trying another one in a different city!"